Sgt. Procario
>>
Pre-War
|
Training
|
Plane Crew
|
Docs
|
Post-War
|
Photos
Sgt. Rudy Procario — Pre-War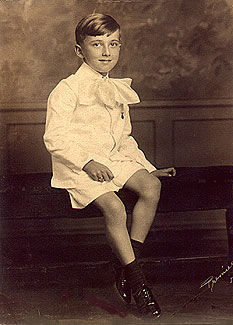 The Early Years
Rudolph F. Procario was born on June 6th, 1924, twenty years before the date June 6th would be forever known as D-Day, the day of the Normandy Invasion. He lived in Riverdale, NYC from the time he was five months old until he entered the Service during World War II.
He graduated from Manhattan College High School on June 22, 1941 and went on to attend Manhattan College in September 1941. Several months later the Japanese attacked Pearl Harbor on December 7th, 1941. The United States was now at war with Germany and Japan.
Rudy joined the Army Enlisted Reserve on December 2, 1942 and was called to active duty on March 9, 1943. He put his days at Manhattan College on hold and reported for active duty at Camp Upton in Yaphank, Long Island on March 30, 1943.
Rudolph Procario - First Communion
St. Margaret's about 1931

Rudy & Elaine Procario (the future Mrs. Sheridan).

Home in Riverdale ~ 363 West 261st. Street, NYC


Graduation from Manhattan College H.S. 6/22/41


Elaine & Rudy Procario Summer 1938



Last Formal Prom before Service - December 1942

Sgt. Procario >> Pre-War | Training | Plane Crew | Docs | Post-War | Photos