Bill Rhodes >> Story 01 | Story 02 | Story 03 | Story 04 | Story 05 | Photos | Photos 2
Bill Rhodes — L Company, third battalion,
358th Infantry Regiment, 90th Division

Which Way is the Enemy? Part IV
By Bill Rhodes

AWOL in Paris
We were a group of soldiers returning from hospital back to the 90th Division. When we got off the ship in France, we assembled near railroad tracks and were told we would take the train from the beach to Paris. We sat all night in the rain waiting to board that train. It didn't arrive until the following day at noon. When we crowded into the small boxcars we were given one day's K-rations, but it took the train three days to get to Paris. So for two days we had nothing more to eat.
We arrived in Paris just before daylight. Two other soldiers and I were sitting on the steps of the caboose. We assumed the train would stay stopped there for a while, so we decided to get off and go look for food. We saw a dim light in the distance and when we got there it was a bar that was open. We were able to buy a glass of beer and a slice of bread. After about an hour we went back to the train. But to our great surprise, the train was gone! We knew not where. What to do now?!
We talked to a soldier stationed in Paris and he told us the U.S. Army had taken over three restaurants in Paris and any soldier in uniform could eat three hot meals per day. That was great news – we could eat again. It was probably the only place in the world where you could be AWOL and the Army would be feeding you.
We talked around and talked to anyone who spoke English. At one place De Gaulle was speaking to a crowd of people but I had no way of knowing what he was saying.
On the afternoon of the third day, the MP's picked us up. We were all wearing Purple Heart ribbons on our shirt so we were easy to spot. The next morning they put us in trucks and took us back to the 90th Division to the 3rd squad, 3rd platoon of L Company.
Those three days in Paris were not something I planned, but I just accepted it as part of the War. I marveled at how well the soldiers who were stationed there lived. But in some ways there were fringe benefits to being on the frontline. We didn't salute anyone. We didn't have to shave, do KP or stand in chow lines. We ate our K-rations whenever we felt like it. And we were with a group of brave men whom we admired and respected.
Mini-90th Division Reunion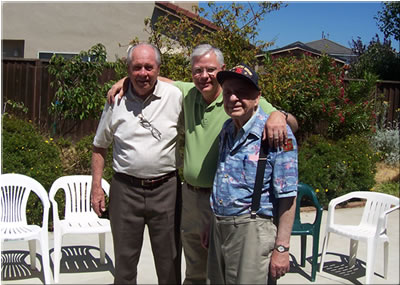 Bill Rhodes and his family hosted a "mini-90th Division Reunion" at his home in Salinas, California, on June 17, 2006. Click here to see photos.
(L-R) Vern Schmidt 358 E CO, David Bragg (son of Eldridge Bragg 358 L CO) of Kentucky, and Bill Rhodes 358 L CO.
>> Next Story about Bill Rhodes
Bill Rhodes >> Story 01 | Story 02 | Story 03 | Story 04 | Story 05 | Photos | Photos 2