Rocky
>>
Story 01
|
Story 02
|
Story 03
|
Story 04
|
Story 05
|
Photos
|
Photos 2
An Infantryman's True Story in Normandy — by Rocky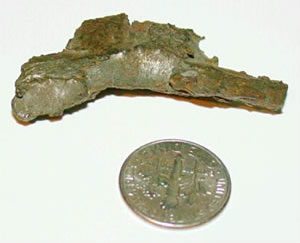 Ihis is picture of a piece of shrapnel (shown in comparison to a dime) that embedded itself in my water canteen in the hedgerows of Normandy, France. I reached for a drink of water, during a lull in the shelling and heard this rattling noise in my canteen. It was this piece of shrapnel. It is from a German artillery 88 howitzer. This happened about June 10,1944.

You will notice how sharp the edges are. When a shell lands, it explodes into all these small pieces of very hot steel, that scatter all over and if they hit you, they tear a bad wound in your body. This is what injures or kills soldiers and civilians.
I was very lucky that it hit my canteen and stopped in it. If it had hit a little lower or higher, I would have been seriously injured or killed.I carried this piece of shrapnel in my pocket throughout the war and keep it as a souvenir.
BATTLE OF THE BULGE
On January 13, 1945 I was removed from the front lines for the second time with trench foot (frozen feet). I was in the First Aid Tent waiting to be sent back to the hospital when word came through that the Germans were counter-attacking. All the wounded that could fire a rifle were loaded on trucks.
They wrapped my feet in a blanket and put me in the truck. They drove us as close as possible to the front and unloaded us. They told us that they expected the Germans to try to break out at this point and we were to hold our positions at all costs. Here are a bunch of wounded soldiers along with cooks, bakers, MP's and whoever else they could find.
The Germans hit us hard and tried to break through our lines, but we held on, it was like shooting ducks in a shooting gallery, we shot so many of them that they finally surrendered. We took many, many, prisoners. We later found out that this was called the "Battle of the Bulge" that we protected.
I was picked up and carried to a truck and brought back to the Aid Station. The soldier next to me looked at me and said "Rocky". He was my best friend! We grew up next door to each other. We had gone through school together and graduated from PORTLAND HIGH SCHOOL in 1942. I asked him where he was wounded and he said that he had frozen feet. We rode together in the ambulance to Verdun,France. There we both were shipped to England. He went to a different hospital than me. I never saw him again until he arrived home in 1946. His name was Reginald Papi and he passed away on September 30, 1974.
I received battle credits for Normandy, Nothern France, Rhineland,7 Ardennes. I entered the army as a private, made pfc, when I left the States, received a battle field promotation to s/sgt. (Later found out that my promotional papers never reached battalion head quarters, so I was still a pfc). At discharged time I was discharged as a private. At the time of discharge I believe that I was one of the earliest discharged under the point system.
So you see, I entered the army as a private, and was discharged as a private, despite making pfc. and staff sergeant. I served from November 1943 to November 1945. So you see if you were in the infantry during WWII you had to get a shafting. The rear headquarters people never knew what was going on at the front.
I have a little fact to share with you.
I landed on D+2 at Utah Beach, Normandy, France as a replacement for Company " C " 357 Inf. 90th Division. I fought as a rifleman from June 8, 1944 to Jan. 13, 1945, without being wounded. I was in every attack and every Fall Back. (We never say retreat.) On January 13, 1945 I was removed from the front lines for the second time with trench foot (frozen feet).
The first time was about a week or so earlier. I was in an aid station waiting to be evacuated, when the Germans counterattacked to try to break out of The Battle of The Bulge. All the wounded in the tent were given rifles and blankets to wrap around our feet, and lifted into trucks, and rushed to the front along with cooks, and any available personnel. We stopped the counterattack and then I was evacuated to England and spent the next three months in the hospital.
I had made staff Sgt. several months earlier, after we were shot up very badly. We were in a rest area, and a Sgt. Johnson and I were the only two left from our squad. A replacement Captain commissioned Sgt. Johnson to Lieutenant Johnson and I was ordered to become staff Sgt.
Having been in combat for months and seeing officers and sergeants continually being wounded or killed, I had refused stripes on many occasions, especially after my best buddy Bill Reedy from Chicago, became a corporal and was killed several days later in Berle, Luxembourg.
I was in every battle that company "C" was in for seven months and never was wounded. After I left the hospital and arrived at a repo depo in France Iwas assigned to a non combat engineering outfit. After being there for a month or so I was told that I was still a private, my promotion to staff Sgt. never reached headquarters in the battle zone.
So you see I went in as a private, and was honorably discharged as a private. I have official army papers showing that I was a Pfc. If I remember correctly, when we left the U.S. for Europe, General Eisenhower ordered all privates to become Pfc's automatically. I believe that I am the only U.S. Soldier who entered the army as a Pvt. and was honorable discharged as a Pvt. without being busted for any reason.
Can anyone top these two things, in as a Private and being discharged two years later as a Private and seven months as a combat rifleman without being wounded?
Rocky >> Story 01 | Story 02 | Story 03 | Story 04 | Story 05 | Photos | Photos 2