Bill Rhodes >> Story 01 | Story 02 | Story 03 | Story 04 | Story 05 | Photos | Photos 2
Bill Rhodes — L Company, third battalion,
358th Infantry Regiment, 90th Division


Editor's Note:
A couple of years ago I received a package in the mail. It contained the book, "Which Way is the Enemy?" by Bill Rhodes. Bill was in the same rifle squad (3rd squad, 3rd platoon of L Company) as my father, Private Alfred D. Sheridan during World War II.
Bill put the following inscription:
To My Friend, Dan Sheridan - The Records show that your Dad and I fought together in Normandy on Hill 122 and crossed the Saar River December 6, 1944. He was there walking with me past the pill boxes in the dark. I know you will think of him as you read this book. — Bill Rhodes
Bill included a copy of an old Morning Report which indicated that he was wounded on July 10th and my father on July 13th during the Battle of Hill 122. It was here that the Third Battalion suffered some of its highest casualties and the one which earned it the Presidential Unit Citation. Bill never received his copy as he was in a hospital at the time. Sixty-two years later and long overdue, I sent him an old faded copy my father had saved. (Click here to see Presidential Unit Citation).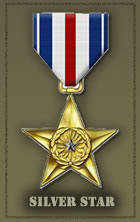 I read one section of Bill's book. He was wounded a second time on November 9th during the battle of the Moselle River Crossing.
"After 20 days the doctor said, 'Your wound won't be completely healed for two or three days, but it will be that long to get you back to the front, so I will send you back today.'"
I asked Bill about this. "I thought it was like in the movies where after being wounded the doctor says, 'you got a million dollar wound, you're going home.'"
"No, Dan it wasn't like that."
I then asked Bill about something he's never discussed, his Silver Star. "I don't feel like blowing my own horn. There were other days that were just as bad, and they didn't give me a Silver Star. Your life was on the line every day. No one was bucking for medals. You were just trying to stay alive and do what you had to do," commented Bill.
Bill Rhodes >> Story 01 | Story 02 | Story 03 | Story 04 | Story 05 | Photos | Photos 2