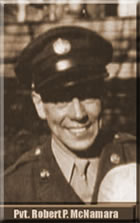 Robert Patrick McNamara — L Company, third battalion, 358th Infantry Regiment, 90th Division

PART 05:
75 Years and Three Generations Later:
D-Day Remembered — A Story of War, Fate and Homage
Today, 75 years after my grandfather's death and the D-Day invasion, I look at my father, my brother, my two nephews and my three sons — several of whom carry on the name of Private Robert Patrick McNamara Sr. I quietly marvel at the powers that be, the ebbs and flows of life and the connections and chance that brought me to a phone call 67 years later with Bill Rhodes, one of the last survivors from Company L. Looking at the stack of letters saved by my grandmother for all the years of her life, I reflect on how this story points to a truth for so many who fought in or lost loved ones during World War II. The war has shaped so many families, the impacts rippling through generations. For some of us, the stories and memories have a way of weaving themselves throughout the years, with points of reference emerging slowly across lifetimes.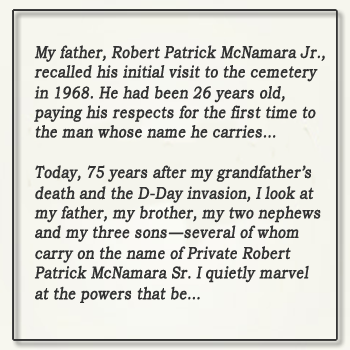 The stories of D-Day point to a significant turning point in world history, yes — but these are also the stories of the last wanderings of an individual soldier's life. Here is the story of the father my dad never knew. Here is the story of the man who was my grandmother's first love, and whose love letters remained tucked away in a top dresser drawer for over 70 years. It's the story of a young man who kissed his wife's photograph nightly and dreamed during the war of being home to eat strawberry shortcake and whipped cream. It is one particular story, a human story — a reminder of the deeply personal faces of wartime and its effects. It is the story of who came and went before. It is a story of grueling hardship, the trauma of war, and of love, loss, fate and friendship.
This story is a testament to memory, and the indelible mark of death on our lives. It's a story offering an uncanny and unexpected chance for my grandfather to speak through the words of a veteran who was by his side. It's as if he were saying, This was a slice of my life. This was the end no one knew about but always pondered. These were my actions. This was the tragic close — so normal: a drink of water from a fellow soldier's canteen and a chat about the good old days. This was war. It all ended in a foxhole, some four weeks after crossing the English Channel into France.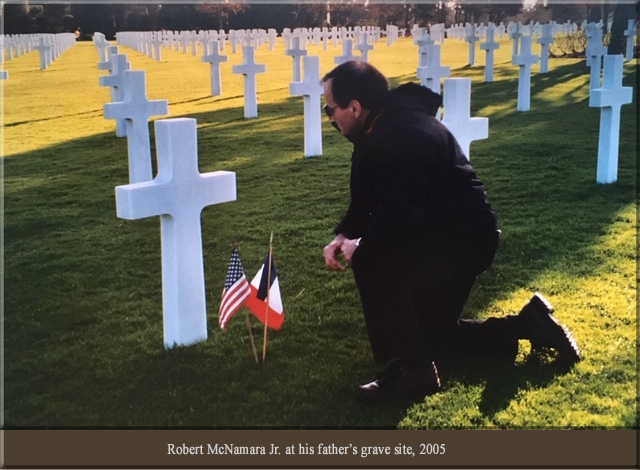 A quick foxhole switch and twist of fate meant life for one, death for the other. A simple changeover at the last minute determined the course of history for at least our few families. And somehow, all these years and several generations later, life afforded us the connection. We were granted the opportunity to share the gift of stories, converging in a rare moment of remembrance and homage. We all agreed: something had come full circle. It had been a story that was waiting to be told.
From Soldier to Poet 
A poem by Pvt. William Rhodes
So I put down my rifle
And I picked up a pen.
I'm no longer a soldier
But I remember when…
We climbed down the rope ladders
On the side of the ship
To get into the assault boats
To take a quick trip.
A quick trip to the shore
Where the cannons roar
And you can't help but wonder
Who started this war?
No words can describe it
So why do I try?
Because those memories still
Can make me cry.
And we can still remember
As time passes by.
A few veterans still come back
Robert P. McNamara >> Part 02 | Part 03 | Part 04 | Part 05 |
Writer, sustainability activist, and author in Boulder, Colorado. Learn more at www.DebMcNamara.com
Click Link Below to Read Article by Deborah McNamara - on Medium.com

75 Years and Three Generations Later:
D-Day Remembered — A Story of War, Fate and Homage