Bill Rhodes >> Story 01 | Story 02 | Story 03 | Story 04 | Story 05 | Photos | Photos 2
Bill Rhodes — L Company, third battalion,
358th Infantry Regiment, 90th Division

Which Way is the Enemy? Part I
By Bill Rhodes
Hardships
You don't really know what hardship is unless you have had to live in a foxhole 24 hours per day, day after day. Some night when it is raining really hard, look out the window and try to imagine what it would be like to be out there all night with the rain drenching your clothes and no way to get dry.

And if that wasn't bad enough, after several hours of misery, enemy artillery shells start exploding near you and your body shakes and bounces on the ground from the concussion of the exploding shells.
July Morning Reports
On July 4, 1944 there were 10 casualties (8 wounded and 2 KIA in L Company. On July 5th more than 30 replacements came to Company L. These included Harold Lusher who was KIA on July 12 and Alfred D. Sheridan who was listed on the July 13th as hospitalized. My name, WC Rhodes, was also listed on the same report.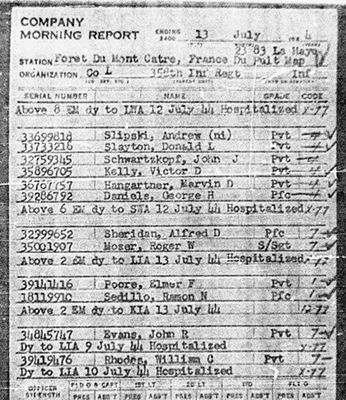 On July 7th Robert McNamara was killed when a mortar shell landed on his foxhole. Both Alfred D. Sheridan and I remember talking to McNamara that night. He came by my foxhole and talked about the days when he boxed in the Golden Gloves tournament. Then he talked to Sheridan whose foxhole was very close to his.
On July 9th Carl Olecjnizik was hospitalized. On July 10th Lt. Bird and Lt. Sanders were hospitalized. On July 13th Elmer F. Poore and Sedilla were KIA. On July 14 the 3rd Battalion has 43 men KIA.
On July 15 Captain Bryan took command of L Company with 27 men left in the company, including Sergeant Burke and Sergeant Barnard. (Click here to read about Captain Bryan).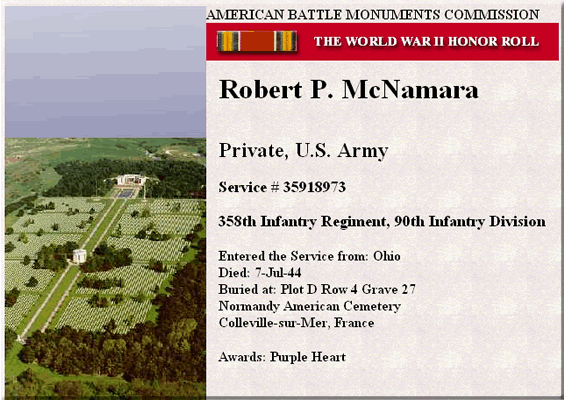 On July 7th, 1944 Robert P. McNamara was killed during the Battle of Hill 122.
Click here to visit the American Battle Monuments Commission. (Website: www.abmc.gov).
Bill Rhodes >> Story 01 | Story 02 | Story 03 | Story 04 | Story 05 | Photos | Photos 2