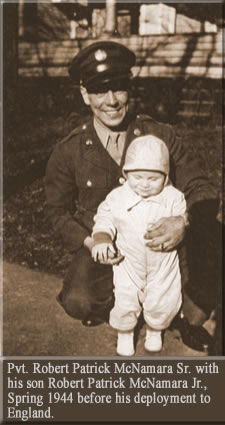 Robert Patrick McNamara — L Company, third battalion, 358th Infantry Regiment, 90th Division

75 Years and Three Generations Later:
D-Day Remembered — A Story of War, Fate and Homage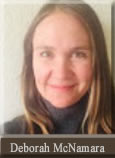 It was June 1944. My grandfather, Robert Patrick McNamara Sr., was set to land on Utah Beach on D-Day Plus 2, June 8th. When the Third Battalion, 90th Division waded waist deep amidst choppy waters to reach the French beaches, they found ruined boats and shell holes. There had been hundreds of vessels extending as far as the eye could see. The 90th Division Association Battle History reported that along the sandy road that the soldiers followed inland there were empty ammunition cases, discarded packs, helmets and pieces of clothing.
The "Morning Reports" from L Company (my grandfather's company in the 90th Division), reported that the day they'd landed on Utah Beach the men had marched six miles, eventually making their way north and east to Turqueville, France. Two days later, the first two men in their battalion were killed. By June 14th, six days after landing on Utah Beach, 26 more had died. That same day, Robert wrote a letter home. "Oh love, it will be the happiest day of my life when I can hold you in my arms for good. I pray every day for this terrible thing to end." Within a few weeks, nearly 90% of the men in Company L would be killed, himself included.
As the 75th anniversary of D-Day approaches, the stories of those who fought point to the tragic mark of a whole generation of boys and men lost to war. These stories contribute not only to monumental world history, but also comprise many American personal family stories. My grandfather stormed the beaches of Normandy and lost his life soon after, and I grew up hearing those stories and longing to know more — until I miraculously met Bill Rhodes in 2011, his friend who was next to him in the foxhole the night he was killed by a German mortar shell. Bill was one of the few survivors of Company L who would not only share his personal account of the Normandy invasion, but who would also tell me the story of the final weeks of my grandfather's life, and share the poignant story of a last-minute foxhole switch that meant death for my grandfather and life for another soldier, Private Alfred Sheridan, who remembered this fateful moment for a lifetime.
Letters to His Wife — Rhea Anne Smith McNamara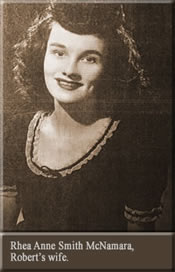 After a 15-day boat ride across the Atlantic, Robert and Bill had been training in Southern England with some 200 other soldiers who were part of the L Company, 358th Infantry Regiment, 90th Division. Robert was a strapping young man, 21 years old and a Golden Glove boxer from Cleveland, Ohio, where he'd married his high-school sweetheart Rhea in May 1942. The spring of 1944 had found him on a short visit home from training in Camp Wheeler, Georgia. During the visit he said good-bye to my grandmother and his one-year-old son. Only one photograph remains from this last visit; it was taken by my great-grandmother Anne on a sunny day before Robert Sr.'s deployment to England and France.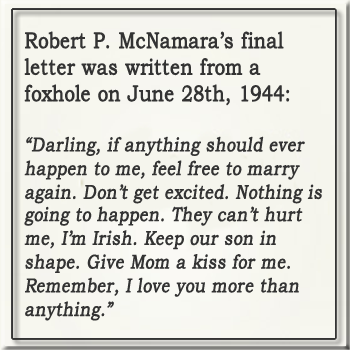 During the span of November 1943 and June 1944 Robert had sent his wife Rhea over 50 letters, and my grandmother had saved them all. When she passed away in 2015, the letters were found at the back of one of her dresser drawers, neatly bound and still in their envelopes. June 1944 had ushered forth a flurry of final letters with news from the frontline in France. On June 7th my grandfather wrote, "Well that was sure grand news about the invasion. Just keep praying, honey. I hope it will be over soon."
His final letter was written from a foxhole on June 28th, 1944 — just nine days before he was killed during the bloody battle of Hill 122 near the Foret de Mont Castre, a forest on the Cherbourg Peninsula, France. He wrote: "How awful the French are living with no clothes and wooden shoes. The Germans took everything from them. To be an American is the most wonderful thing in the world. Darling, if anything should ever happen to me, feel free to marry again. Don't get excited. Nothing is going to happen. They can't hurt me, I'm Irish. Keep our son in shape. Give Mom a kiss for me. Remember, I love you more than anything."

>> See Part 2 to Article by Deborah McNamara
Robert P. McNamara >> Part 02 | Part 03 | Part 04 | Part 05 |
Writer, sustainability activist, and author in Boulder, Colorado. Learn more at www.DebMcNamara.com
Click Link Below to Read Article by Deborah McNamara - on Medium.com

75 Years and Three Generations Later:
D-Day Remembered — A Story of War, Fate and Homage