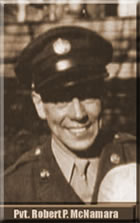 Robert Patrick McNamara — L Company, third battalion, 358th Infantry Regiment, 90th Division

PART 04:
75 Years and Three Generations Later:
D-Day Remembered — A Story of War, Fate and Homage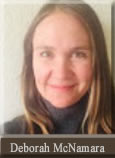 During that year when our families first connected, Dan sent photos of his father and asked me to share the story of my grandfather. "Could you tell me a bit about Robert P. McNamara? When was he born? What town? His family? How did he become a Golden Glove boxer?" Our families began sharing a flurry of stories.
When my second son Braeden was born in 2012, Dan gifted us with a baby blanket and a note about the marvel of connecting in unexpected and profound ways.

I corresponded with Bill Rhodes for several years before he died in August of 2013, sharing stories via many letters and phone calls. My father and grandmother also had the opportunity to connect with him before he passed, and my father met Bill's son in 2013. It was one of the greatest gifts of a lifetime to have connected personally with a man who played such a vital role in the legacy of the WWII generation — as well as who served to play an important role in my immediate family. I knew time was of the essence. As a whole generation of veterans was approaching a century old, it had been important for us to speak as quickly and deeply as possible.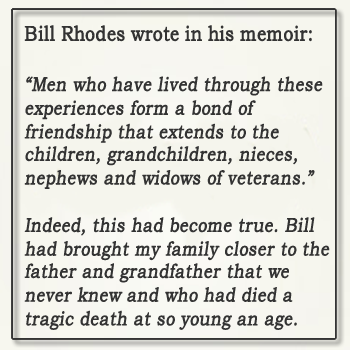 During one of our conversations, Bill shared that he didn't talk about the war for 50 years. "It was in the 1990s that we started talking. After nearly seventy years of silence, now we are talking!"
I was a most grateful and humble recipient of Bill's stories and his wisdom. He was a poet, and in one of his letters he wrote, "Closer than a brother, a friendship like no other… The men who we found in the infantry know so very well the price of liberty." In his memoir, he shared that "Men who have lived through these experiences form a bond of friendship that extends to the children, grandchildren, nieces, nephews and widows of veterans." Indeed this had become true. Bill had brought my family closer to the father and grandfather that we never knew and who had died a tragic death at so young an age.
In one of Bill's last letters to me he wrote, "A granddaughter's love is a precious thing — like the beautiful flowers that bloom in spring." Through meeting Bill, and through poring over the heartfelt war letters left behind by my grandfather, I'd been gifted with a rare and precious glimpse into the final wanderings of a most remarkable man. And while I never knew him, the stories, letters and serendipitous connections across generations had reminded me that certain things can mysteriously endure, and transcend time.

Private Robert Patrick McNamara Sr. is buried at the Normandy American Cemetery in Colleville-sur-Mer, France along with over 9,300 others who lost their lives during the war. In 2005 my family and I decided to make the journey across the ocean to his gravesite, which is just over the rise from Omaha Beach. Normandy welcomed us with green rolling hills, knobby trees and small villages with old stone walls. I wondered what my grandfather's impressions had been as he had marched toward enemy lines. My parents, brother and I stood on Utah Beach on a cold January morning, speculating about what the landing must have been like. We stared at bullet-holed walls and craters where bombs had fallen. It was hard to imagine that such a battle had been fought there.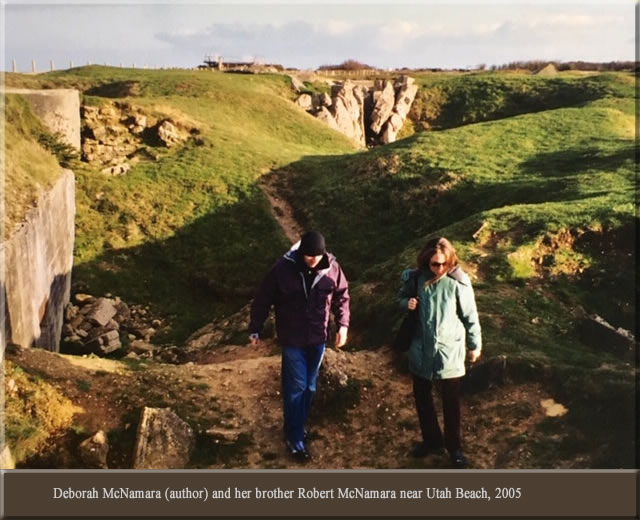 It was quiet, and winter birds were chirping.
My father, Robert Patrick McNamara Jr., recalled his initial visit to the cemetery in 1968. He had been 26 years old, paying his respects for the first time to the man whose name he carries. Someone from the cemetery had come to meet him at the train station and personally took him to the gravesite. As my father neared the grave, he noticed a man on his hands and knees, tidying up the site, placing an American flag beside it. The man was older, with "tanned, weathered skin lined like barn wood," my father recalled. He said how sorry he was for my father's loss. His family had been liberated by the Americans and he was grateful for the sacrifice, and wanted to make a point to say so in person — even so many years later.
>> See Part 5 to Article by Deborah McNamara
Robert P. McNamara >> Part 02 | Part 03 | Part 04 | Part 05 |
Writer, sustainability activist, and author in Boulder, Colorado. Learn more at www.DebMcNamara.com
Click Link Below to Read Article by Deborah McNamara - on Medium.com

75 Years and Three Generations Later:
D-Day Remembered — A Story of War, Fate and Homage