Bill Rhodes >> Story 01 | Story 02 | Story 03 | Story 04 | Story 05 | Photos | Photos 2
Bill Rhodes — L Company, third battalion,
Mini-90th Division Reunion


June 17, 2006 — Bill Rhodes, his wife Margo and his daughter Val hosted a "mini-90th Division Reunion" at his home in Salinas, California.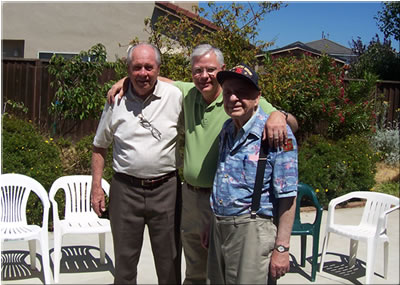 Those who attended included David & Linda Bragg (son of Eldridge Bragg) of Kentucky, Norm & Linda Richards of Saint Charles, MO; Vern & Dona Schmidt of Fresno, CA; Walt & Mildred Walker, John & Louise Tamagni, Joe Triano,Bill & Margo Rhodes and their daughter Val Meeks. Joe Triano brought his guitar and sang some songs. Bill read his latest poem. A good time was had by all.
(L-R) Vern Schmidt 358 E CO, David Bragg (son of Eldridge Bragg 358 L CO) of Kentucky, and Bill Rhodes 358 L CO.

Bill Rhodes, the host of the Mini-90th Division ReUnion at his home in Salinas, California.



(L-R) David Bragg, Vern Schmidt, and Bill Rhodes wearing his 90th Division, Tough Ombre T-O Patch.



(L-R Standing) Margo, Linda Bragg, Linda Richards, (L-R Sitting) Mildred Walker, Dona Schmidt.


Joe Triano 358 A CO entertained the troops with his guitar. Click here to see videos of Joe playing his guitar.

Vern Schmidt 358 E Co and Walt Walker 358 A Co.


Joe played his signature son.
Click here to see videos of Joe
Bill Rhodes >> Story 01 | Story 02 | Story 03 | Story 04 | Story 05 | Photos | Photos 2