Story of a citizen soldier
by charles b. bryan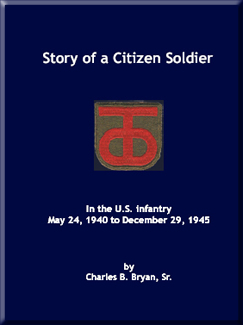 Story of a Citizen Soldier is the personal memoir of Charles Bryan who served in the U.S. Army for five and one half years.
His first assignment was with the 176th regiment guarding the public buildings in Washington. After further training at Fort Benning, GA, in May 1944, he was promoted to the rank of Captain and shipped overseas in a replacement draft, first to England and then to Normandy. As CO of L Company, 3rd Battalion, 358th Regiment, 90th Division, he led his company and later the Third Battalion through five campaigns. His battalion was the first American Army unit to cross Germany to Czechoslovakia. Lt. Colonel Bryan was awarded a Bronze Star, the Purple Heart, the Silver Star, the Distinguished Service Cross, and the French Croix de Guerre.
STORY OF A CITIZEN SOLDIER is printed in 8.5 x 11, soft cover. format.224 pages. 120 Black & White photos, 2 color photos, 15 maps.....

Documents | Photographs |